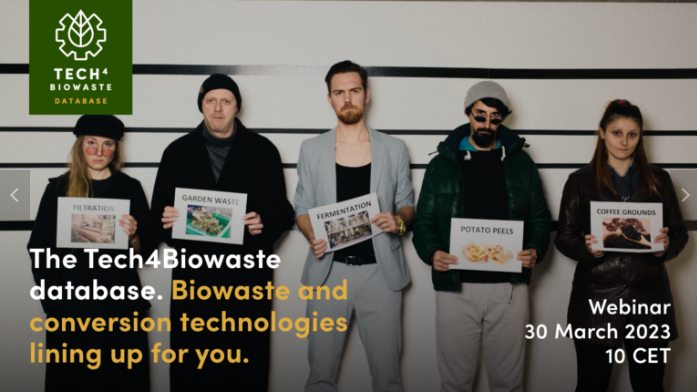 On 30 March 2023 the Tech4Biowaste project team hosted a one-hour webinar explaining all the ins and outs of the brand new Tech4Biowaste Database. The first and only open-source database for biowaste conversion technologies.
The webinar takes you on a journey through the database, as well as along its technology owners and users. Is your technology not represented yet? The webinar show you how to add it.
450 persons registered to the webinar. Should you nonetheless have missed it, the webinar was recorded and can be re-viewed via the following link:  https://www.bohezproductions.com/tech4biowastelive. Feel free to pass this link on to other people with an interest in biowaste conversion technologies.
In the meantime, the consortium stays available to answer any questions and/or to assist in adding your technology to the database. Just get in touch via info@tech4biowaste.eu.
The Tech4Biowaste database and all related information and (tutorial) videos are accessible via our website www.tech4biowaste.eu.