From the 18th to 24th October 2021 will take place the Bioeconomy Ireland Week.
Visit the website: https://lnkd.in/ejtrgqXP to view some of the early advertised events and to register with Bioeconomy Ireland Week if you plan to hold a Bioeconomy event.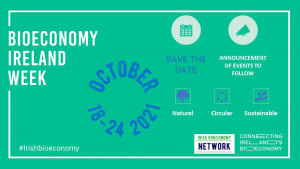 WHAT IS THE FUTURE OF OUR BIOECONOMY?
Natural. Circular. Sustainable
Bioeconomy Ireland Week is an annual week-long event held each October to highlight and raise awareness of Ireland's rapidly growing bioeconomy. The celebration is a collaboration of events involving industry, local communities, producers, researchers and students throughout Ireland. This year we are all about what is natural, circular and sustainable – and we're asking ourselves, what do these words really mean?