Bari, 19 Marzo 2019 
Università degli studi di Bari Aldo Moro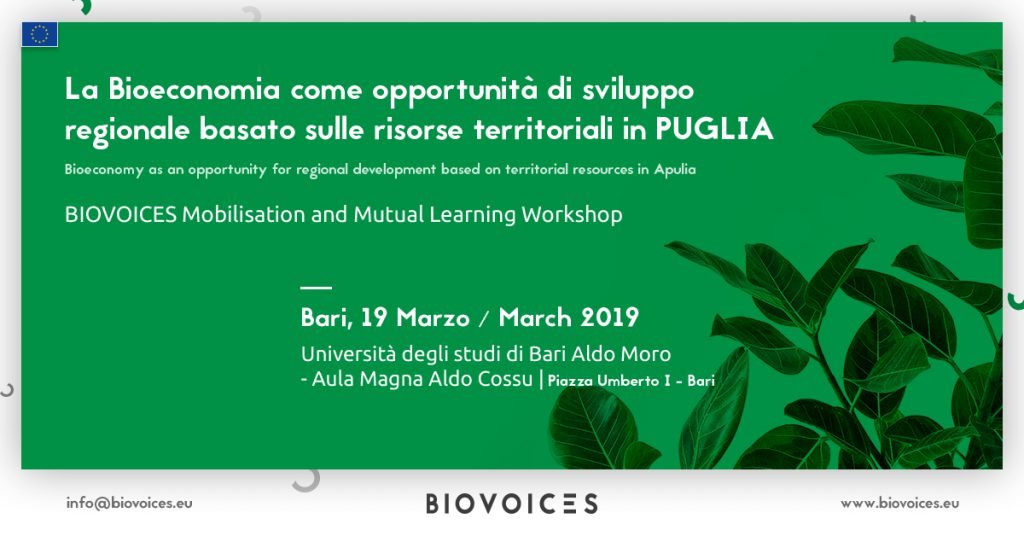 Il progetto BIOVOICES, finanziato dalla Commissione Europea che mira a promuovere il dialogo tra i vari gruppi di stakeholder, ha organizzato un Mobilization and Mutual Learning (MML) Workshop dal titolo "La Bioeconomia come opportunità di sviluppo regionale basato sulle risorse territoriali in Puglia"
L'evento si terrà a Bari il 19 marzo 2019 presso l'Università degli studi di Bari Aldo Moro in collaborazione con Assobiotec, Biocosì, CNR, Cluster SPRING, EggPlant, European Bioeconomy Network, Federchimica,  FVA New Media Research, GRACE, MISTRAL, Power4Bio, Università degli studi di Bari Aldo Moro,VALUEMAG, e avrà come obiettivo quello di favorire il coinvolgimento e la collaborazione tra gli attori locali, per identificare opportunità di sviluppo territoriale che siano in grado di valorizzare le caratteristiche regionali e le risorse esistenti.
Il workshop sarà organizzato in due sessioni, che affronteranno le sfide e opportunità rappresentate da
SEA – Blue BioEconomy
LAND – Agri-food, Forestry BioEconomy e Urban waste
Ogni sessione presenterà casi di studio, che forniranno spunti ed esempi pratici per stimolare la discussione durante la successiva tavola rotonda, nella quale  gli stakeholder della Quadruple Helix lavoreranno sulle sfide, opportunità e barriere per promuovere lo sviluppo regionale.
Il taglio della giornata sarà pratico per generare idee e stimolare possibili collaborazioni tra gli stakeholders partecipanti per promuovere lo sviluppo sostenibile reso possibile dalla bioeconomia nella specifica realtà territoriale pugliese.
I risultati del workshop verranno presentati il giorno seguente (20 marzo 2019) durante la Presentazione del 5° Rapporto sulla Bioeconomia in Europa, di Banca Intesa in collaborazione con Assobiotec e Cluster SPRING.
La preregistrazione al sito www.biovoices.eu/bari è requisito indispensabile alla partecipazione
Per maggiori informazioni è possibile contattare info@fvaweb.it
————————————————————————————–
The BIOVOICES project, funded by the European Commission aims to promote dialogue among the various stakeholder groups, has organized a Mobilization and Mutual Learning (MML) Workshop entitled "Bioeconomy as a regional development opportunity based on territorial resources in Puglia"
The event will be held in Bari on March 19, 2019 at the University of Bari Aldo Moro in collaboration with Assobiotec, Biocosì, CNR, Cluster SPRING, Federchimica, FVA New Media Research, GRACE, Mistral, Power4Bio, University of Bari Aldo Moro, VALUEMAG, and will have as its objective to encourage the involvement and collaboration between local actors, to identify opportunities for territorial development that are able to enhance regional characteristics and existing resources.
The workshop will be organized in two sessions, which will address the challenges and opportunities represented by:
SEA – Blue BioEconomy
LAND – Agri-food, Forestry BioEconomy and Urban waste
Each session will present case studies, which will provide insights and practical examples to stimulate discussion during the next round table, in which the stakeholders of the Helix Quadruple will work on the challenges, opportunities and barriers to promote regional development.
The day will be practical to generate ideas and stimulate possible collaborations between the participating stakeholders to promote sustainable development made possible by the bioeconomy in the specific territory of Puglia.
The results of the workshop will be presented the following day (March 20, 2019) during the Presentation of the 5th Report on Bioeconomics in Europe, by Banca Intesa in collaboration with Assobiotec and Cluster SPRING.