Are you a stakeholder interested in plastics, construction, textile, and chemical sectors? Join SUSTRACK focus group workshop to boost the transition from linear fossil-based economy to circular bio-based economy!
SUSTRACK is organizing the focus group workshop "Limits, barriers and solutions to boost the transition towards a circular bio-based economy", which will be held online on June 9th, 2023, from 10:00 to 13:00 CEST, as official partner event of the European Green Week .
The SUSTRACK project is a three-year initiative that supports policymakers in developing sustainable pathways to replace fossil and carbon-intensive systems with sustainable circular and bio-based systems at the EU and regional scale.
The focus group will be organised in two sessions: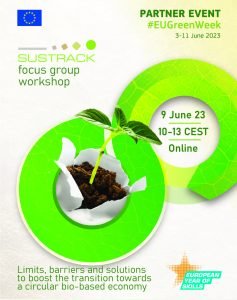 a brief introduction of SUSTRACK project and its main results on the limits of fossil-based economy and technical, structural, governance, environmental, economic and cultural barriers to the transition to circular bio-based economy;
an interactive discussion with collaborative online tools, in which stakeholders will have the opportunity to give their opinion and identify, discuss, consolidate, prioritize the barriers across the four sectors.
Don't miss it! Attendees will acquire valuable insights into challenges faced by the linear fossil-based economy, and barriers to the transition to circular bio-based economy, as well as into the drivers and benefits of sustainable transition and future activities within the SUSTRACK project.
Take a look at the agenda and express your interest here to participate! You will be reached as soon as possible to confirm your participation.