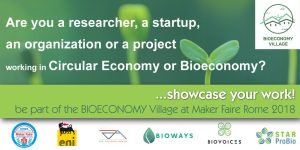 Maker Faire Rome 2018 will dedicate an exhibition pavilion to sustainability, bioeconomy and circular economy, with the aim of raising awareness and inform the large public, showcasing products and applications, organizing laboratories and practical demos, games and quizzes dedicated, debates and workshops, to children and adults.
Promoters of the BIOECONOMY Village, together with Innova Camera, the projects BIOWAYS, BIOVOICES, BIOBRIDGES e STAR-ProBio, funded by the European Commission. The BIOECONOMY Village will give the opportunity to universities, research centers, industries, start-ups and projects to present their research findings, bio-based products and applications in the everyday life.
The exhibition space will be organised into thematic areas, each represented by one or more organization that will show, in a practical and engaging way, the positive impacts of the circular bioeconomy on the environment, economy and society.
The thematic areas will be:
Informative, educational and workshops area
Games and video area
Cleaning and hygiene, Personal Care & Cosmetics, Health and biomedical
Textile products and clothing, sport and toys
Food Packaging, disposable products for catering and events
Biofuels and bioenergy
Environmental bioregulation and biological sensors
Building and construction; restoration and paintings, decorations and furniture
Agriculture, food, nutraceutical
The sea as a resource to be protected and valued
Do you want to join us? Participation will be free of charge. Drop us an email to cohen@fvaweb.it before 5 July, telling us about your work and the bio based products you will showcase.