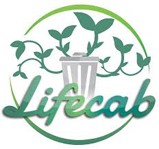 Biowaste management has become a major issue because of the increasing amount of biowastes. These stem from increasing polulation urbanization and consumption habits. Current biowaste management practices are based on fermentation and incineration technologies. These practices produce biogas, compost, thermal and electrical energy. The processing costs exceed the sale value of the products and/or raise issues connected to their secondary environmental impact. Based on previous research work1 carried out by the University of Torino in cooperation with Acea Pinerolese Spa located in Pinerolo (TO), LIFECAB will demontrate in real operational a new process to treat municipal biowaste (MBW) and produce soluble biorganic substances (SBO). These substances will be used as additives for anaerobic fermentation reactors to improve the economy and environmental impact of the current fermentation technology.
The new process, developed at small laboratory pilot level (www.biochemenergy.it), is based on the chemical hydrolysis of fermented MBW in water. It yields all marketable products. It allows recycling all reagents and water. It produces no secondary waste and process effluents needing disposal. Moreover, the SBO have been shown multipurpose products for potential use in the chemical industry, agriculture and animal husbandry. These findings prospect that a MBW treatment plant may be turned into a biorefinery producing biofuel and value added biobased products. Most recent laboratory studies have proven that the addition of 0.05-2% SBO to the MBW organic humid fraction (OHF) fermentation slurry decrease the ammonia content of the digestate, while maintaining biogas production and quality. The effect is presumably due to the capacity of SBO to promote oxidation of ammonia to N2.
Based on the above premises, LIFECAB is a pilot/demonstated project aiming to validate at TRL 7 previous research. This will be achieved by pursuing three main objectives:
validating the SBO production process in real operational conditions;
validating the new SBO assisted anaerobic fermentation process;
demonstrating a new business model, which allows the valorization of biowastes through integrated biochemical and chemical processes in real operational environment with reduced entrepreneurial risk.
Contacts: Enzo Montoneri: enzo.montoneri@gmail.com
Sorani Montenegro: sorani.montenegro@hysytech.com
Simone Solaro: simone.solaro@hysytech.com